This is a re-post from here: https://andrzejl.eu:30303/wordpress/2016/04/02/quick-update-and-a-couple-of-wtfs/
Some people could not access the original post due to "security settings".
So just a "quick" update…
Like I said I gave them a week to get stuff activated and tested the speed.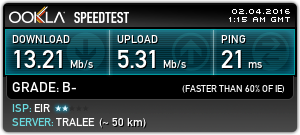 Upload – okish. Download – less than half of what I should be getting. Yes I am testing it over LAN… Like that matters… My wifi is 300mbps so…
Anyroad. I called them on Wednesday the 30th of March, waited and waited finally got thru to the rep. I was told they cannot change my profile because my e-fibre is not activated yet. It will go active on the 05th of April 2016. I am a patient guy. I will call them on the 06th of April 2016 again.
And now the series of WTFs…
My ex-flatmate called about 2 weeks ago and asked if we could send the old router to:
Free post
eir logistics
Cragg Avenue
Clondalkin
Dublin 22
He said that he just called the magic 1901 number and was told that this is the place to send (return) the router to. Its free.
I said no problem but I won't be able to do it this week I will do so the next week… and since (unlike eir) I am reliable, organized and dependable – I had the router ready on Thursday morning. I was going to send it the next day (Friday the 01st April 2016).
I had it double wrapped in the bubble wrap.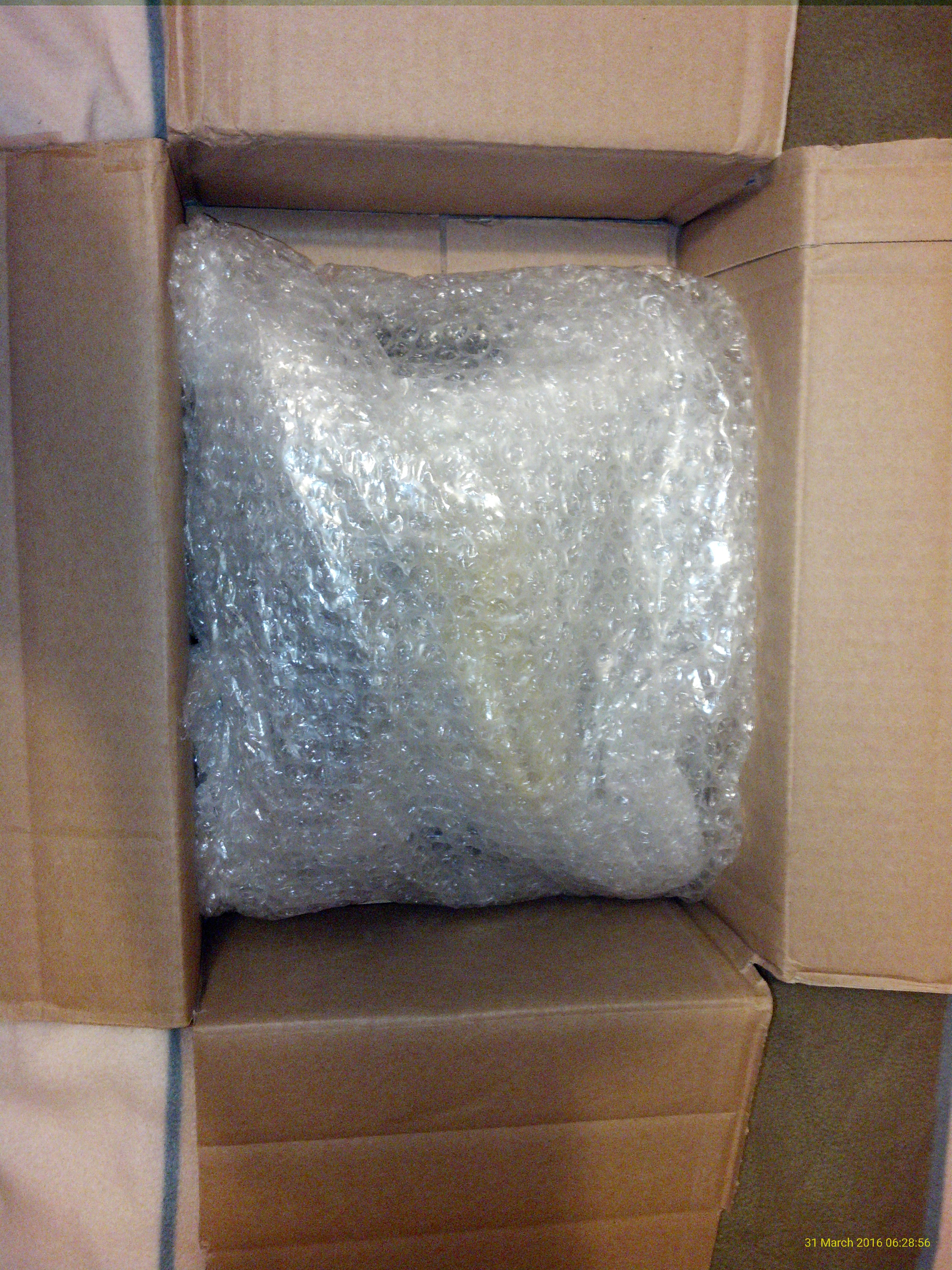 I've placed flatmate's details and a little note inside so that the recipient knew where the router came from.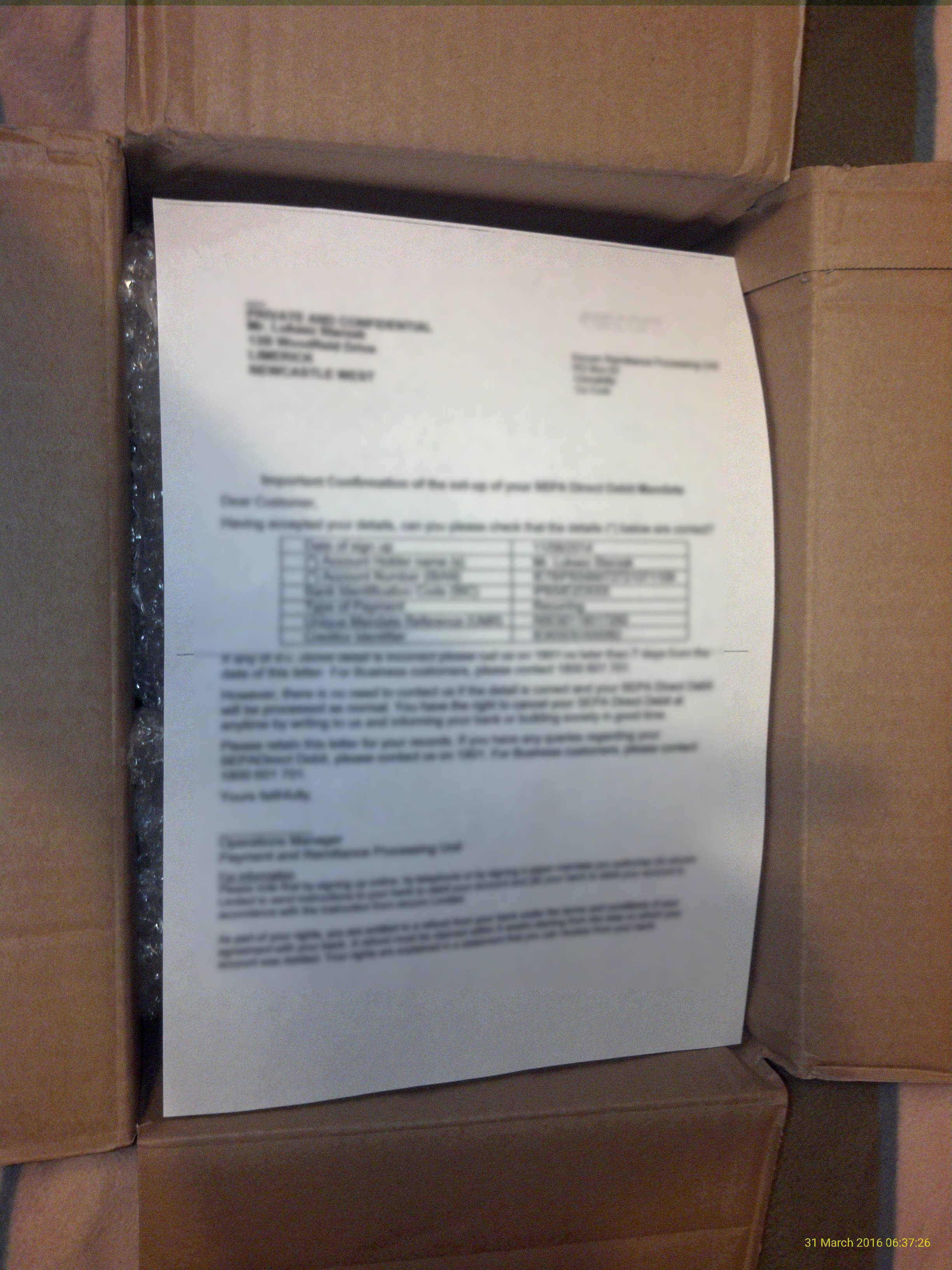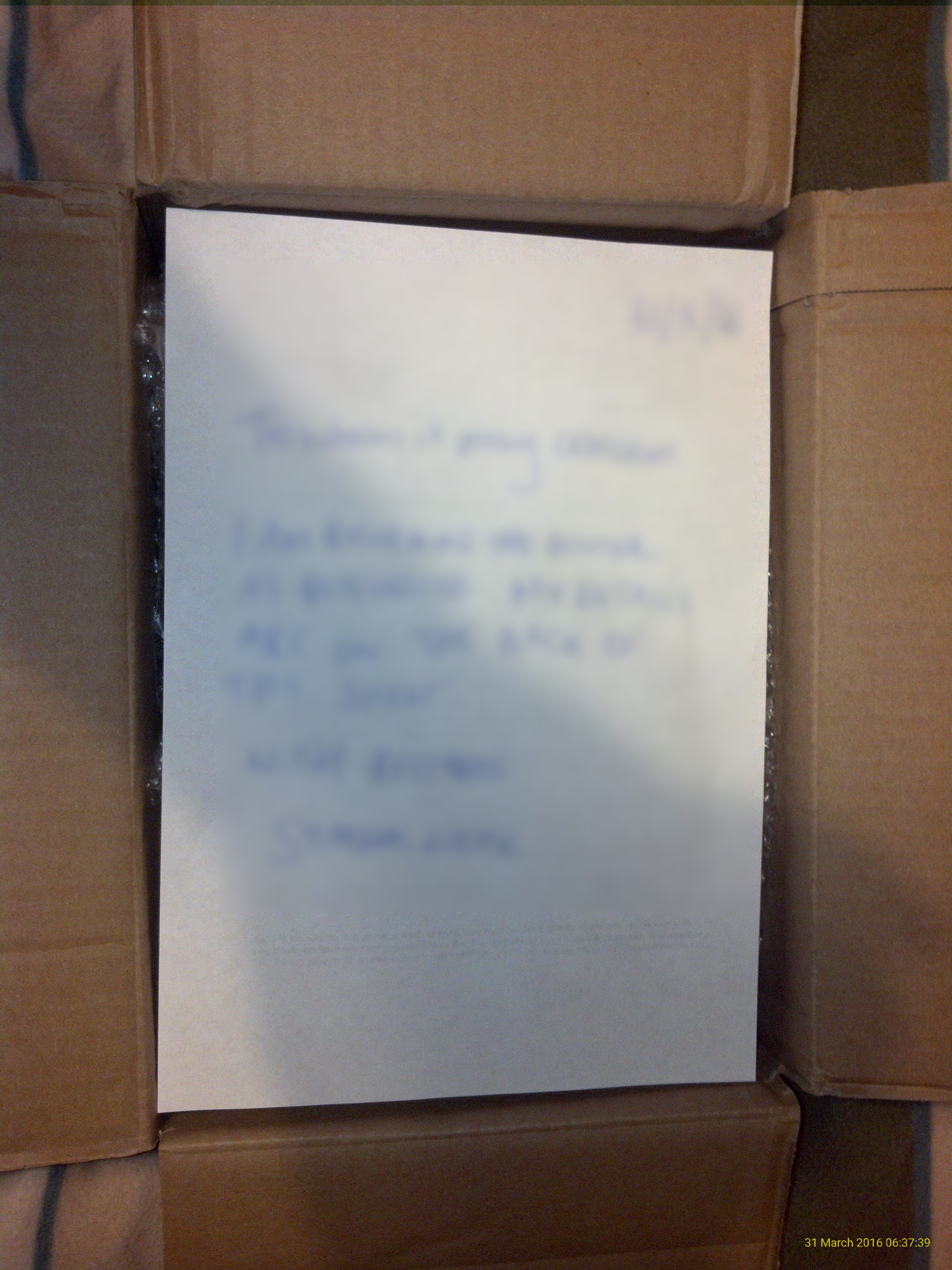 I had it properly addressed. The address was weather-proofed.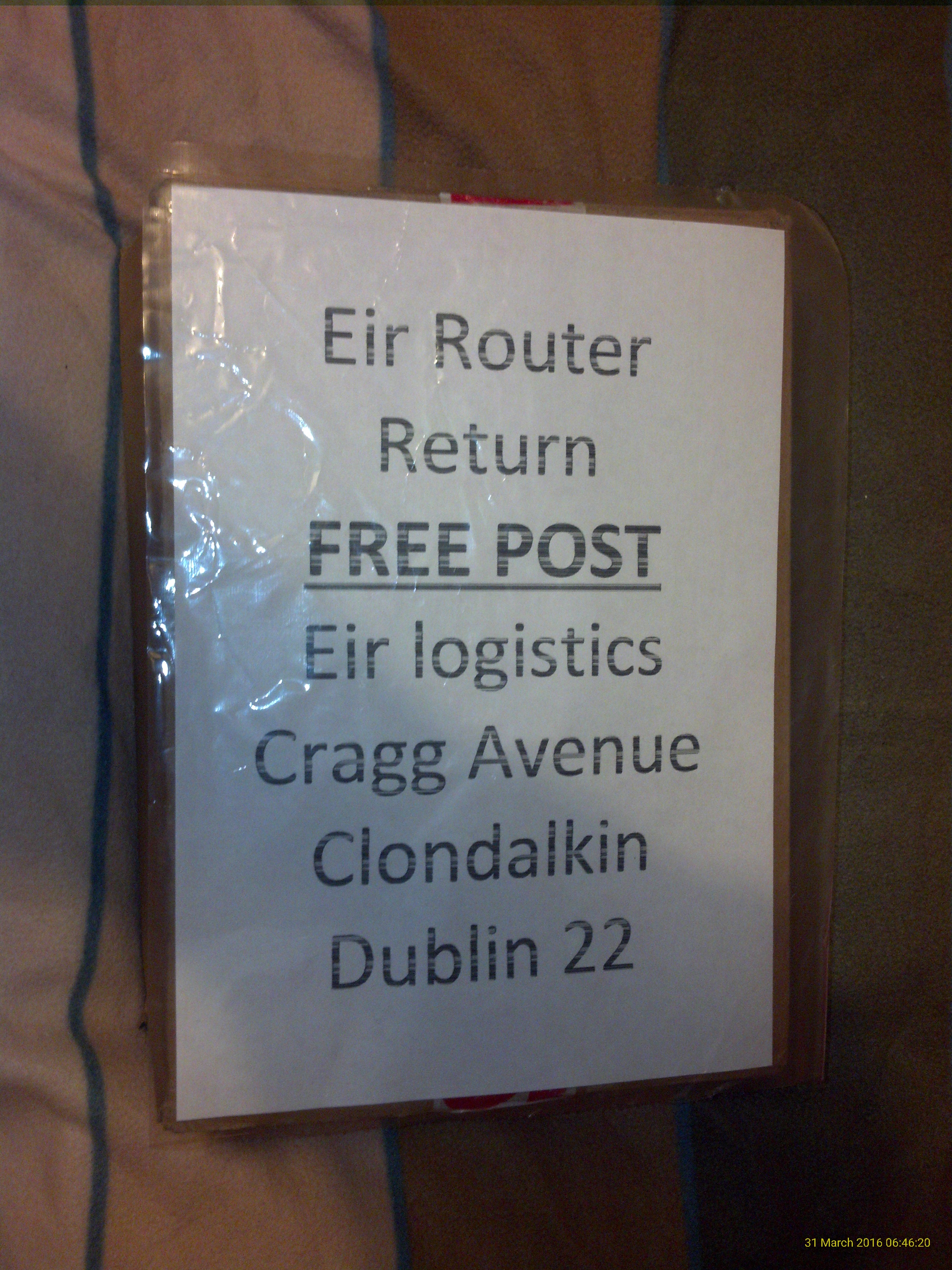 Took me all bout 5 minutes before work on Thursday… but I had a hunch… I thought "Is this address correct? Check the address with @eircare on Twitter… Just to be sure." So I wrote to them just before leaving for work. And sure… The reply was a WTF…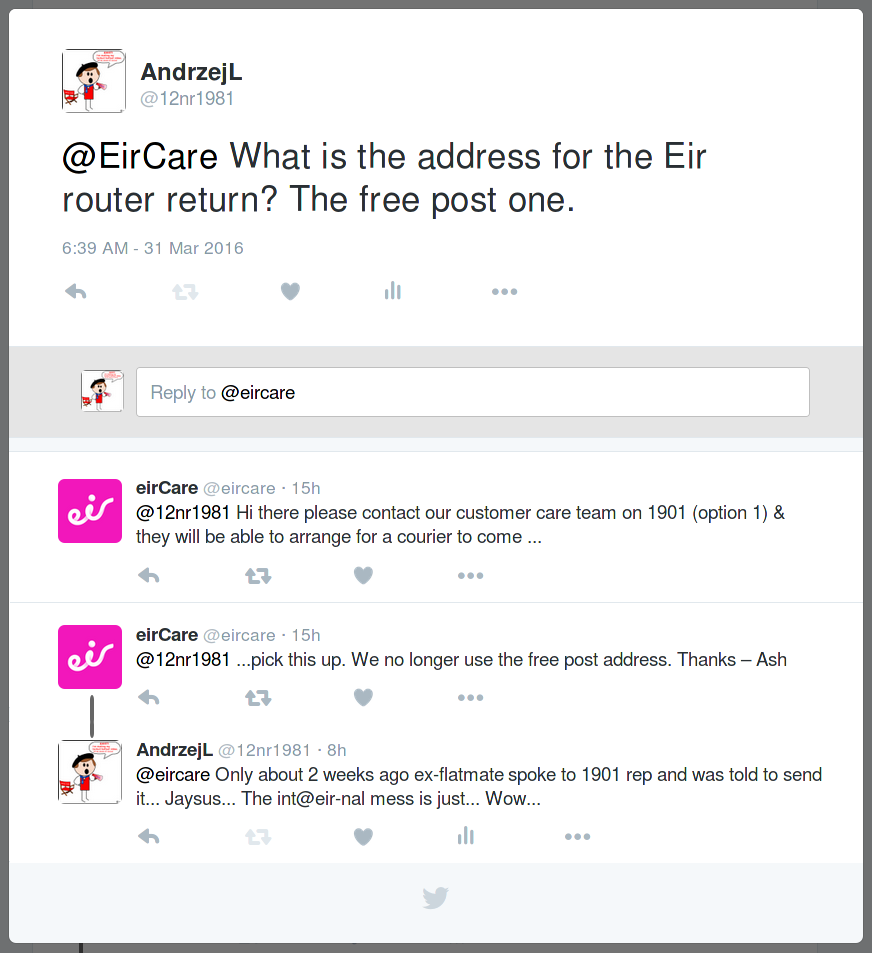 This is exactly what I have the biggest problem with. Eir representatives are not being trained properly. They are not being told about the latest updates. There is a MASSIVE communication problem in that company. When you call them they do whatever they need to do to "put you thru to the…". Its not their problem that you have a problem or are looking for the information. Their problem is a daily quota. They cannot spend to much time with one customer. Their goal is to keep the slave-drivers like "the manager Lee" happy. One department tells you one thing, the other department is telling you something else. No information exchange. Outdated information. Misinformation. BLOODY NIGHTMARE!
I've contacted ex-flatmate. He will give them a call next week but this is definitely a WTF moment.
Another WTF moment… Have you ever visited eir community / forum? They present you with the most popular threads in the header of the page…

You can also choose to view the most recent ones…

Read the thread titles… Do you see a patter here?… WTF…
And the final WTF is… Friday the 01st of April 2016… I've received 2 letters from eir. Each with different account number. One starting with 9 the other with 2. Both dated 24th March 2016… both "signed" (more like printed) by the same person. I called 1901, got thru to a fella who told me that my residential account on the old system is still waiting to be closed… while the residential account on the new system is active already. Old account will be deactivated on the 05th of April 2016 and I will receive "the closing bill"… I told him that I already paid (overpaid) for the April when I paid my massive Business account €130 bill. He said that this is great and that I will definitely be refunded for the overpayment for that period… I said that I am worried about getting a double bill. He said that such thing WILL NOT happen. Yet another reason to give them a call on the 06th of April… WTF…
That's it for now. To be continued…
Andrzej